Silence Juventus, Madrid Confident Face European Super Cup
2022-08-06 10:43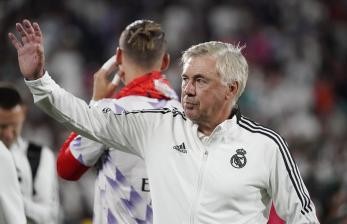 Real Madrid coach grateful that no players were injured after the match against Juventus
PASADENA -- Real Madrid looked impressive when they met Juventus in a trial in the United States. The duel took place at the Rose Bowl, Pasadena, California, Sunday (31/7) morning WIB.
El Real winning 2-0 over Juve. Since the match began, the white tried to dominate. In the 19th minute, Madrid took the lead through a Karim Benzema penalty.
Previously, Vinicius Junior was violated in a restricted area. The referee points to the white dot. Benzema who became the executioner successfully conquered Mattia Perin.
In the 69th minute, Los Blancos added to the advantage. This time through Marco Asensio's close range. After the match, the coach of the Spanish giants, Carlo Ancelotti reacted.
He considered his team showed improvement compared to the previous game. The Los Blancos players, he continued, showed a good performance. A valuable capital ahead of the next battle.
"It's been a well-executed pre-season and now we have the confidence to go ahead and win the European Super Cup," Ancelotti said, quoted by the club's official website.
He was grateful that there were no Real Madrid players languishing in the treatment room during the US tour. Dani Carvajal had a sprain. But that's just a small problem.
Evidently, Carvajal has fully recovered. He also defended Madrid during the duel against the Bianconeri. He even appeared until the 63rd minute.
"We have trained well. Everything is going very well," said Ancelotti.
Thus, the El Real agenda in Uncle Sam's country is complete. Los Blancos can return to Spain to prepare for the European Super Cup against Eintracht Frankfurt. The duel took place at the Olympic Stadium in Helsinki, Finland, Thursday (11/8) early morning WIB.