Rodrygo makes Modric a role model at Real Madrid
2022-08-04 01:00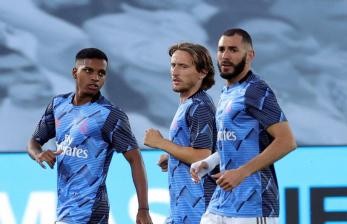 Rodrygo admits Modric helped him develop at Real Madrid.
MADRID -- Rodrygo Goes has realized two big goals in his football career. He has won the Champions League. Next, he became part of Real Madrid.
He has just touched the number 21. There are many other successes waiting for him. Being at El Real, feels special for him. There are many top players who are teammates at Los Blancos. One of them, Luka Modric.
"He really helped me. Playing with him was much easier, considering the quality he has. He is like a father to me," said Rodrygo, quoted from Marca, Wednesday (3/8/2022).
Next, he praised coach Carlo Ancelotti. He alludes to Don Carlo's statistics which are synonymous with winning. Someone who almost always won titles in all his polish teams including at Real Madrid. According to Rodrygo, the Italian tactician did an extraordinary job since he first joined. He remembered all his mentor's advice to them.
"The team continued to grow and develop throughout the season. We had some difficult moments, but in the end everything went well," said the Brazilian footballer.
He also discussed the atmosphere at El Real. The Spanish giants always have the maximum target in all competitions. Rodrygo feels a winning mentality in the Los Blancos dressing room.
Don Carlo's men are preparing for an important duel in front of their eyes. Los Blancos will face Eintracht Frankfurt for the 2022 European Super Cup. The party took place at the Helsinki Olympic Stadium, Finland, Thursday (11/8/2022) in the morning WIB.
Rodrygo enthusiastically stared at the prestigious party. Moreover, he has never felt the sensation of appearing in the European Super Cup final.