Premier League - Chelsea thrashed Brighton 4-1 with 2 own goals
2022-10-30 09:04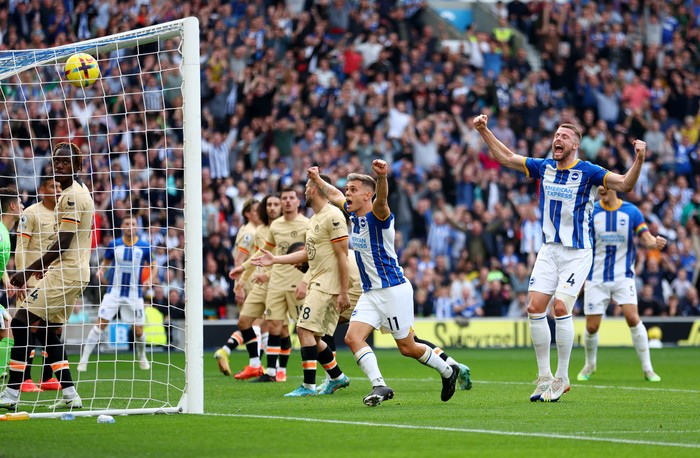 The 2022-23 Premier League season comes to the 14th round, with Brighton at home against Chelsea, beating Chelsea 4-1.
In the 5th minute of the game, Brighton's Kaoru Mikaru dribbled the ball into the left side of the penalty area to pass the ball.
In the 14th minute, Chelsea 's nightmare began. Brighton took a corner kick from the right corner. Players from both sides crowded in the goal to grab the ball. Chelsea defender Kik, who was supposed to defend, accidentally hit his knee and bounced into the net, sending an own goal to Brighton. , 2-0.
Chelsea sent Brighton an own goal again in the 42nd minute. Estupinian dribbled the ball into the left side of the penalty area. When he was about to pass the ball to his teammates, Chelsea's Chaloba intercepted a sliding tackle and instead sent the ball into his own net, giving Brighton a 3- 0 lead to end the first half.
In the 48th minute of the second half, Chelsea's Gallagher passed the ball to the goal from the right, teammate Havertz headed forward, Chelsea finally scored 1 point, 3-1.
In the 90th minute near the end of the game, Enciso seized the opportunity to shoot the goal from a long distance, but was blocked by the opponent's goalkeeper, and the ball bounced back to the middle again. Enciso did not give up and continued to shoot, and the goalkeeper blocked it again. At this time, Grob kept up with a supplementary foot and successfully scored the fourth point.
In the end, Chelsea defeated Brighton 1-4. Chelsea's 9-game unbeaten run was ended by Brighton, with 21 points after the game, ranking 5th in the rankings, and it is difficult to squeeze the top 4. Brighton is in 8th place with 18 points.