Monaco Sporting Director Paul Mitchell confirms he will leave the club at the end of the season..
2023-03-23 18:30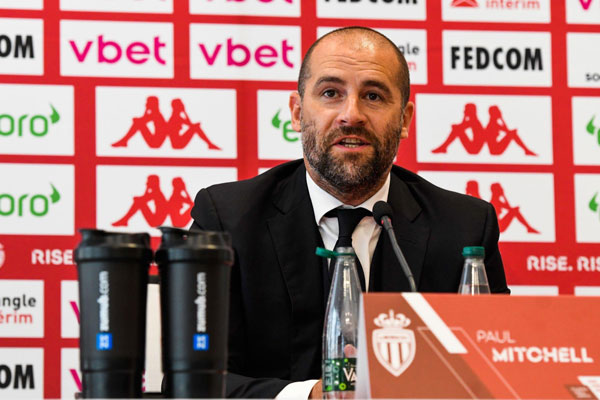 AS Monaco's English Sporting Drector Paul Mitchell confirmed in an interview with the French newspaper Nice-Matin on Wednesday that he will step down and leave the club at the end of the season.
According to the report, Mitchell made the above revelation when reporters asked him about his future at Monaco. He said that he had nothing to contribute to the club, so he felt that the time to leave the club and accept new challenges had come.
Mitchell said: "I have completed my mission at Monaco, and I will leave Monaco to find new challenges. I am honoured to be able to work hard for Monaco in terms of technical aspects and transfers over the years, so that we were able to remain competitive in the league, but I think I've reached the limit of what I can do, so it's time to change for a new environment."
Later, when reporter asked which club Mitchell would join next, he replied that he didn't know yet, but he would take the time to review all the approaches carefully before making a decision, and expressed that he would not mind joining any club, as long as these new projects can make him feel exciting.
After the report was released, many British media linked Mitchell to Liverpool again.
Since December last year, when the Reds suddenly announced that Sporting Director Julian Ward would step down and leave the club after the end of the season, Mitchell has been widely rumoured as the candidate Liverpool wished to take over the position of Sporting Director the most.
Although renowned Liverpool team correspondents Neil Jones and James Pearce of GOAL and The Athletic have denied such rumour, it still didn't stop people from from continuing to associate Mitchell's name with the Premier League giants together.
The 41-year-old Mitchell played for Wigan Athletic, Milton Keynes Dons and other clubs during his playing career, but due to presistent injuries, his professional footballing career was forced to end at the age of 27.
After retiring, Mitchell served as the Sporting Director of Southampton, Tottenham Hotspur and RB Leipzig, during which he helped discover Mauricio Pochettino, Nathaniel Clyne, Dele Alli, Son Heung-min, Kieran Trippier, Toby Alderweireld and many other famous players and coaches.
In June 2020, Mitchell was appointed as the Sporting Director of Monaco. During this time, he again discovered the two active wonderkids of the France national team, Benoit Badiashile and Aurelien Tchouameni. He also helped the Ligue 1 powerhouse sign Takumi Minamino, Breel Embolo, Mohamed Camara, Alexander Nubel and many more.