Mbappe scored the 201st goal of his career in Paris, becoming the top scorer in team history
2023-03-05 11:06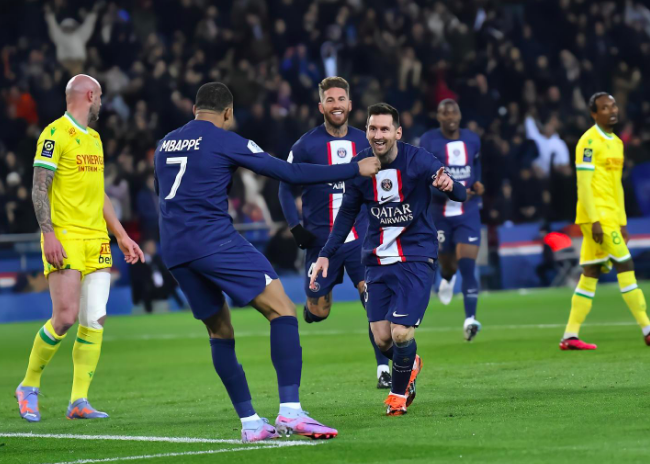 In Paris Saint-Germain 's 4-2 victory over Nantes, Mbappe scored the 201st goal of his Paris career, surpassing Cavani to become the Parisian team's all-time top scorer.
Mbappe scored the 200th goal of Paris career in the match against Marseille, tying Cavani and tied for the top scorer list in Paris team history. Mbappe scored 200 goals in just 246 games , while Cavani took 301 .
Paris scored two goals in just 17 minutes in the match against Nantes , but was later chased by the opponent for two goals in a row. Mbappe passed the ball to help Danilo head in. At the last moment of the game, Pombele crossed and Mbappe scored the winning goal. After mbappe scored, paris set off fireworks in the stadium, and fans played a giant TIFO with "201" written on it , celebrating the milestone moment in paris' team history.
The fans cheered, Mbappe was very excited, and kept waving his hands to signal to the fans. After the game, the Paris Club presented Mbappe with the trophy for the top scorer in team history. Nasser did not attend the scene in person, but congratulated Mbappe through the big screen.
In addition, Messi, who also performed well, also posted a congratulatory post on social media, writing: " +3 ! Congratulations to Mbappe for breaking the record!!", with an expression of hugging and celebrating with Mbappe.