Luis Suárez reunites with former teammate Lucas Leiva as he completes free transfer to Grêmio..
2023-01-01 11:43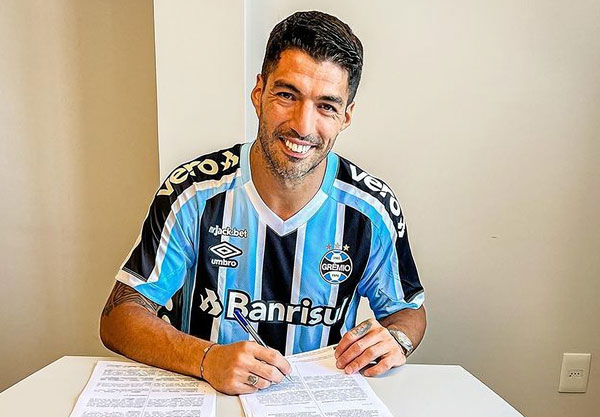 Grêmio announced on its official website on Saturday that the club has signed Uruguay international legendary center forward Luis Suárez.
According to Grêmio's official statement, Suárez signed a two-year short-term deal with the club which runs until the winter of 2024. He will also wear the No. 9 jersey.
After completing his signing procedures, Suárez posted on his personal official social accounts and said: "I am ready to begin this wonderful new challenge at Grêmio, and I look forward to continuing to enjoy what football can give us here. Onward! Tricolor!"
The 35-year-old Suárez, nicknamed El Pistolero, started his professional career in his hometown club Nacional in his early years. During this period, he won a Campeonato Uruguayo title with the club and later moved to the Europe to join Groningen.
After moving to Ajax for €7.5 million in August 2007, Suárez, who won 1 Eredivisie and 1 KNVB Cup with the team as captain, began to experience the taste of success.
In January 2011, Suárez joined Liverpool for £22.8 million. During his time with the Reds, his scoring efficiency was terrifying. He even smashed the record of former Spain international legendary center forward Fernando Torres, by becoming the second player in the Premier League giants' club history to have scored 30 goals in the league. He also won the English League Cup once with the clube and won the European Golden Boot once on an individual level.
However, during this period, he was marred with scandals such as every move that his made was infinitely magnified by the British media, racially abused Manchester United and France legendary former international left-back Patrice Evra, biting Chelsea former legendary Serbia international center-back Branislav Ivanovic, biting former Juventus and Italy international legendary center-back Giorgio Chiellini during the 2014 FIFA World Cup in Brazil and many more, hence Suárez was forced to cut ties with Liverpool in the summer of 2014.
In July 2014, Suárez joined Barcelona with a record-breaking €75 million transfer. He once formed the holy-trio MSN combination with Leo Messi and Neymar. He scored 198 goals for Barça, becoming the Blaugrana' third highest all-time topscorer in the history, during which he also won 4 La Liga, 4 Copa del Rey, 2 Supercopa de España, 1 UEFA Champions League, 1 UEFA Super Cup and 1 FIFA Club World Cup with the club.
In the summer of 2020, after falling out with former Barcelona head coach Ronald Koeman and former chairman Josep-Maria Bartomeu, Suárez moved to Atlético Madrid as a free agent, and then instantly led the club to win another La Liga.
After his contract expired this summer, Suárez returned to Nacional at the end of July in a short-term contract which expired before the start of the 2022 FIFA World Cup in Qatar.
In the past year of 2022, Suárez played a total of 16 times for Nacional in all competitions, scoring 8 goals and assisting 3 times, leading the club to a Campeonato Uruguayo title again.
It is worth mentioning that by joining Grêmio this time, it will also mark the reunion of Suárez and former Brazil international legendary defensive midfielder Lucas Leiva after the pair had played for Liverpool together from 2011 to 2014.
Upon Suárez's arrival, Lucas did not forget to happily post through his personal official Twitter account, saying that he welcomes the former to this Campeonato Brasileiro Série A club.