Kepa needs a new club, Chelsea is ready to listen to incoming offers
2022-06-28 06:08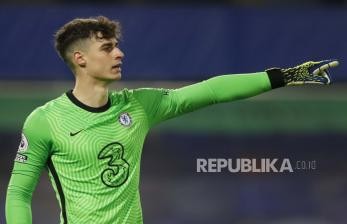 Kepa is still under contract with Chelsea
LONDON -- Kepa Arrizabalaga's future is yet again uncertain. The Spanish goalkeeper is still under contract with Chelsea FC.
But he is not the first choice in goal for the Blues. Coach Thomas Tuchel is more confident in the ability of Edouard Mendy. Precisely since last September 2020.
This fact, makes Kepa more inhabit the bench. Of course, such a situation brings inconvenience. He feels he can still compete at the highest level.
"According to the Daily Mirror, the 27-year-old footballer wants to make regular appearances in the first team. Chelsea cannot guarantee that, therefore, the Blues are ready to listen to offers for the Spaniard, in the summer of this year," read a report quoted by Sportsmole, Saturday (25/6).
If no one buys, the Blue London camp can let the person concerned leave on loan. Kepa's salary stands at 150,000 pounds per week (Rp 2.7 billion). The borrowing club must be willing to pay most of his wages.
French team Nice is reportedly willing to accommodate the goalkeeper. Likewise with Lazio. If he is close to the Biancoceleste, Kepa will reunite with coach Maurizio Sarri.
The former Athletic Bilbao has an important target in sight. He hopes to be able to defend the Spanish national team in the 2022 World Cup. The event will take place from November to December.
Obviously, he will find it difficult to break into La Roja's squad, if only as a backup at his club. Only 26 players were called up. The last time Kepa strengthened his national team, around July 2020.
It's been four seasons, he was at Chelsea. So far, he has appeared in 124 matches in various competitions.