German national team announces Euro 2024 lineup: Rudiger and Sane failed to make the cut
2023-03-18 14:55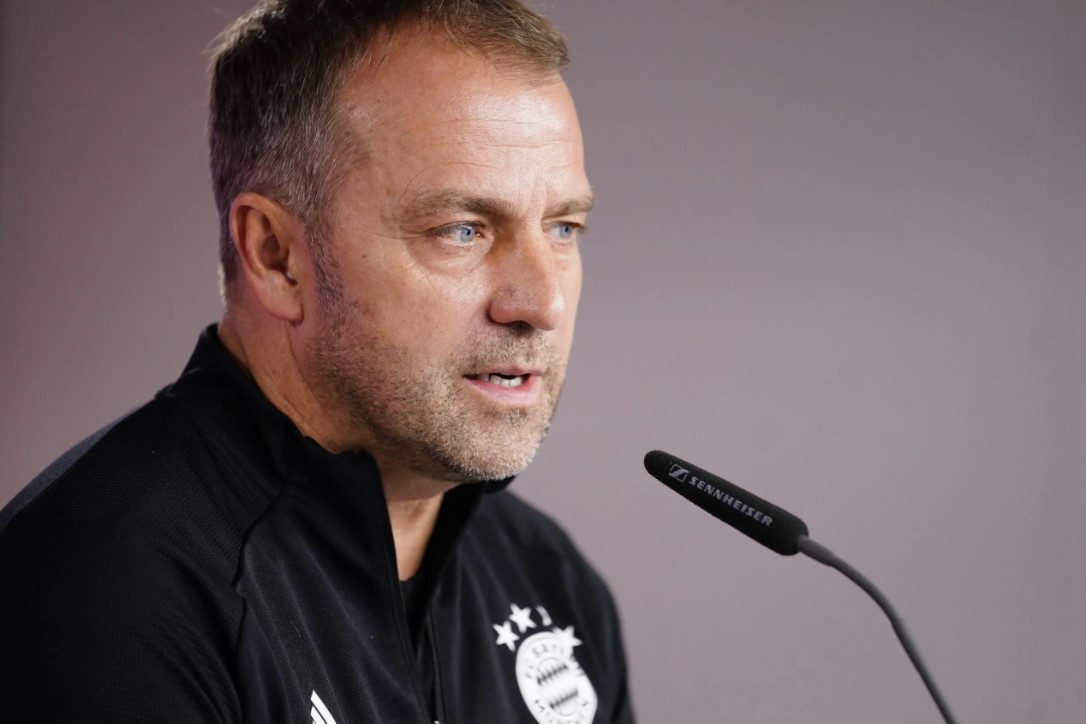 German national team coach Hans-Dieter Flick announced today the lineup for the 2024 European Cup . Among them, 5 players received the call-up of the national team for the first time, and the 30-year-old defender who participated in the World Cup in Qatar Antonio Rudiger and 27-year-old striker Leroy Sane were not selected.
New faces on the international stage
Flick, who has been coaching the German team since 2021, adjusted the 26-member German national team lineup today after experiencing the World Cup in Qatar, and only 15 retained their positions.
Flick selected 5 players to represent the national team for the first time, including 24-year-old forward Mel Jim Berisha, 22-year-old midfielder Felix Nmecha, 22-year-old defender Joshua Wagnoman, 21-year-old Forward Kevin Schade and 27-year-old midfielder Marius Wolff.
According to the schedule, these new faces will make their debut in the German national team in friendly matches against Peru next weekend and Belgium on the 29th.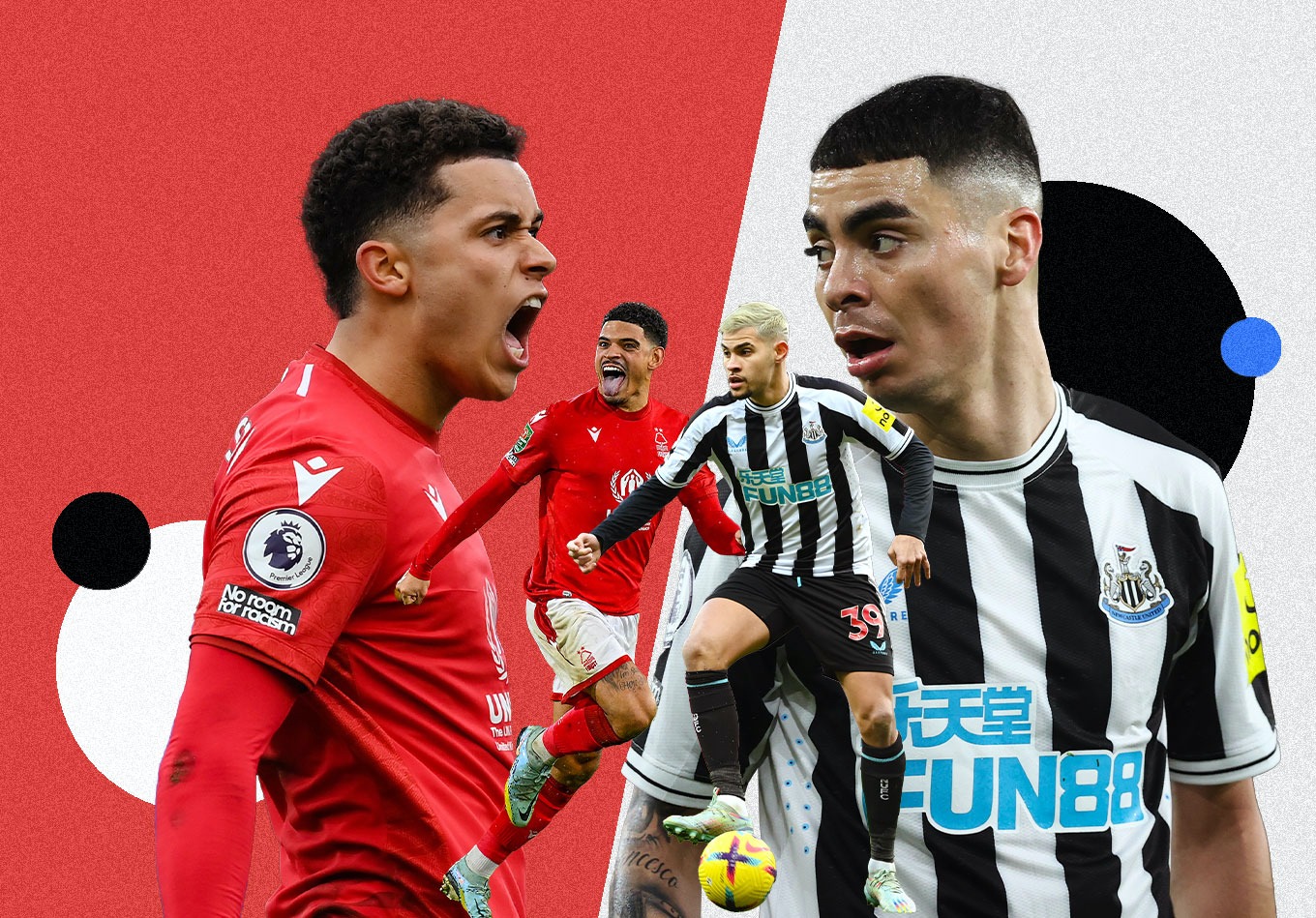 Several national team permanent players were not selected
However, in addition to the new faces, there are also several regular national team players who have not been selected, including Sane, Rudiger, 33-year-old forward Thomas Muller, 27-year-old defender Niklas Süle, 32-year-old midfielder Ilkay Gundogan and
The 36-year-old goalkeeper Manuel Neuer suffered an injury.
In this regard, coach Flick said that the German national team will restart in this year's international competitions, and he also hopes to form a strong lineup for the 2024 European Cup hosted by Germany, using this year's first international competition to give new players a chance. space and opportunity to express yourself.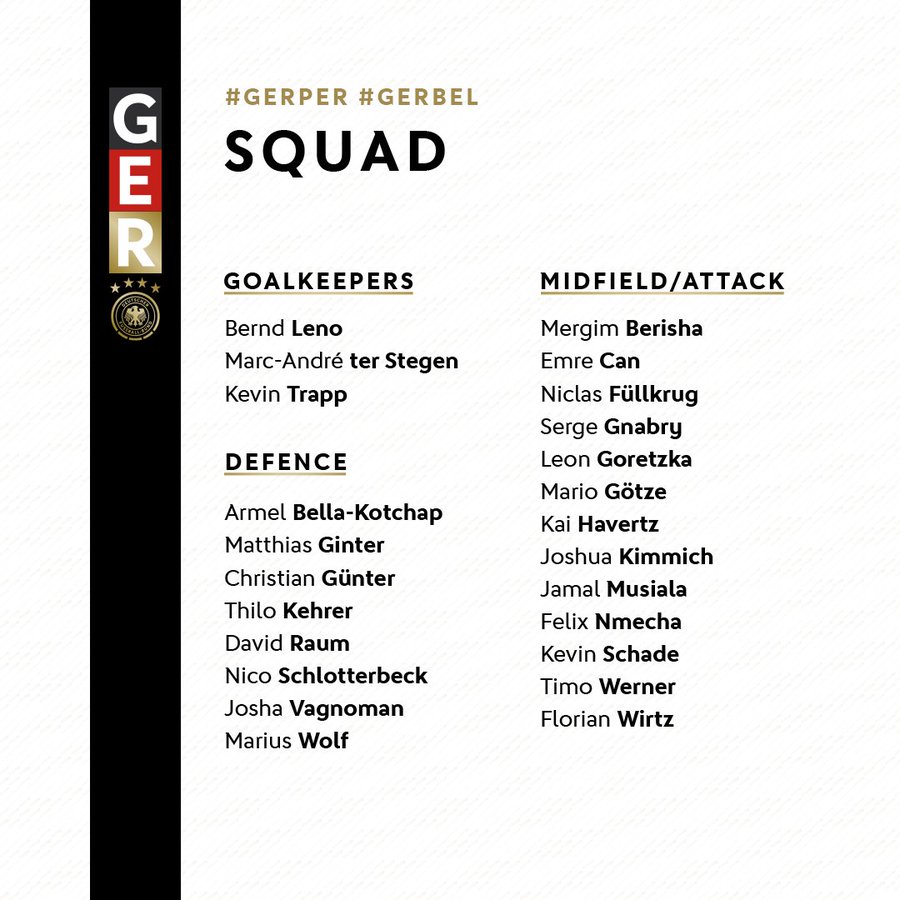 The following is the roster of the German national team:
goalkeeper lineup
31-year-old Bernd Leno (Fulham Premier League)
30-year-old Marc-Andre ter Stegen (La Liga Barcelona)
32-year-old Kevin Trapp (Bundesliga Frankfurt)
lineup
21-year-old Ami Bella-Kotchap (Southampton, Premier League)
29-year-old Matthias Ginter (Freiburg, Bundesliga)
30-year-old Christian Günter (Freiburg, Bundesliga)
26-year-old Thilo Correll (West Ham United Premier League)
24-year-old Davide Laum (RB Leipzig, Bundesliga)
23-year-old Nico Schlotterbeck (Bundesliga Borussia Dortmund)
22-year-old Joshua Wagnormann (Bundesliga Stuttgart)
27-year-old Marius Wolff (Bundesliga Borussia Dortmund)
midfield lineup
29-year-old Emre Can (Bundesliga Borussia Dortmund)
30-year-old Niklas Fellkruger (Bundesliga Werder Bremen)
27-year-old Serge Gnabry (Bayern Munich)
28-year-old Leon Goretzka (Bayern Munich, Bundesliga)
23-year-old Kai Havertz (Chelsea Premier League)
28-year-old Joshua Kimmich (Bayern Munich, Bundesliga)
22-year-old Felix Nmecha (Wolfsburg, Bundesliga)
19-year-old Florian Werz (Bayer Leverkusen)
forward lineup
24-year-old Mel Jim Berisha (Bundesliga Augsburg)
30-year-old Mario Gotze (Bundesliga Eintracht Frankfurt)
20-year-old Jamal Musra (Bayern Munich, Bundesliga)
21-year-old Kevin Shad (Brentford Premier League)
27-year-old Timo Werner (RB Leipzig)