Former Atlético Madrid, Inter Milan and Jiangsu Suning Brazil international center-back João Miranda retires as professional footballer after 22 glorious years..
2023-01-12 11:42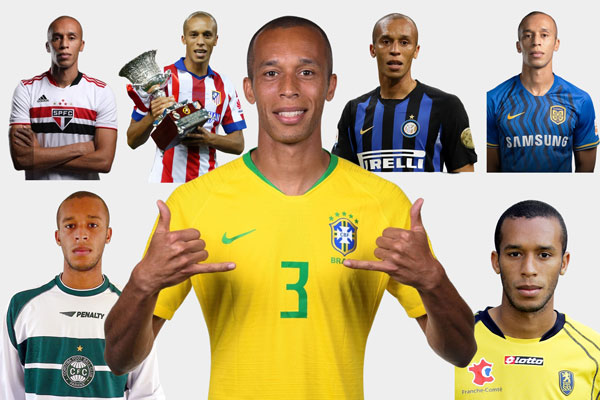 Former Atlético Madrid, Inter Milan and Jiangsu Suning Brazil international center-back João Miranda has announced through his personal official Instagram account on Wednesday that he has decided to retire as a professional football player.
In a video posted by Miranda, he said: "Hello everyone, I want to tell you that the time has come for me to say goodbye to everyone.
"If football is a person, after what I've been through, I would say these are all very great stories."
"There are many challenges in our lives, but João Miranda, as everyone knows, and in private, a lad who loves football, will continue doing what I love be with another kind of way with the same enthusiasm, like a football fan."
"To all the fans who have supported me so enthusiastically, especially the fans in Coritiba at the beginning of my career, and the fans in Sochaux and São Paulo, I just want to say thank you very much."
"To Atlético Madrid, thank you for giving me all the opportunities to repay the love that this wonderful club and fans have shown me."
"To Inter Milan, I want to say a big thank you. To China, thank you for making me feel all the passion and love you give as a person."
"Finally, I must once again say thanks for to São Paulo on my return, allowing me to fulfill my promise of helping São Paulo become champions again."
"It's all very satisfying to me, and I don't have a preference for any one side because I've accomplished all of this with dignity, fairness, mpartiality and equal affection."
"Today, I'm going to stop and clear my head knowing that, as a superhero, I can finally lay back on my pillow and remember all of my history."
"Thank you, this is João Miranda, who will always love you."
The 38-year-old Miranda was born on September 7, 1984 in Paranavai, Brazil. He is 1.86 meters tall and played as a center back. Miranda joined the Coritiba youth academy in 2001 and completed his Coritiba first-team debut in the Copa Libertadores in February 2004.
In the summer of 2005, Miranda joined Sochaux for €2 million, but because he could not adapt to life in France, he returned to Brazil to join São Paulo in August of the following year.
During the 5 years he played for Sao Paulo, Miranda led the team to win 3 Campeonato Brasileiro Série A championships, and was selected to the Campeonato Brasileiro Série A's Team of the Season for 4 consecutive years, and subsequently made himself famous.
In July 2011, Miranda moved to La Liga to join Atlético Madrid as a free agent after his contract expired.
During the 4 years of playing for Los Colchoneros, Miranda won 1 La Liga, 1 Copa del Rey, 1 Europa League, and 1 UEFA Super Cup with the club, while also reaching the Champions League final in the 2013/14 season, essentially became one of the best defenders under Argentina head coach Diego Simeone in his early tenure.
In the summer of 2015, Miranda joined Inter Milan on-loan with an obligation to buy basis. Later, I Nerazzurri activated this buyout clause at a price of €17 million in July 2016.
Although Miranda failed to help the Serie A giants win any titles, his performance was loved by many.
At the end of July 2019, Miranda moved to Inter Milan's former sister team in China, Jiangsu Suning, after his contract expired.
During the two years he played for Jiangsu Suning, Miranda successfully led the club to win the 2020 Chinese Super League championship as a foreign player. However, due to the Chinese government's strong policy on investment limits, Jiangsu Suning suddenly announced that they will dissolve on the last day of February 2021. The announcement of the dissolvement shocked many fans.
After the dissolvement of Jiangsu Suning, Miranda returned to São Paulo as a free agent.
In the past two years, Miranda has played 82 times for São Paulo in all competitions, scoring 2 goals and assisting 3 times, and won 1 Campeonato Paulista championship with the club.
At the international level, Miranda completed his Brazilian senior national team debut in August 2009, and was appointed as the captain of the Seleção from 2015 to 2018. In the 10 years from 2009 to 2019, Miranda played a total of 58 times for Brazil in all competitions, scoring 3 goals and 1 assist, leading the team to win 1 FIFA Confederations Cup and 1 Copa America.