Former Atlético Madrid Croatia international right-back Šime Vrsaljko retires from football to pursue player agency career..
2023-03-23 17:17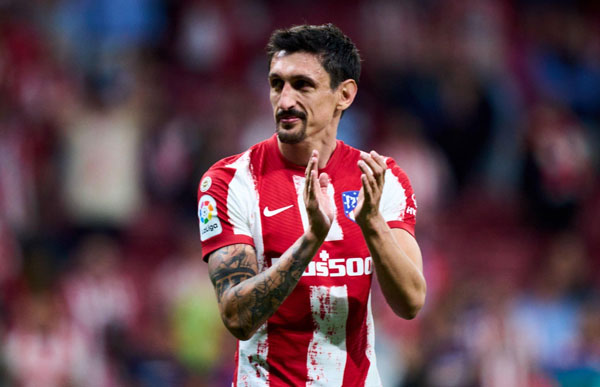 Many local media in Croatia reported on Wednesday that the country's right-back Šime Vrsaljko had decided to end his professional footballing career with an immediate retirement and switched to the player agency industry.
According to reports, Vrsaljko actually still longed for his footballing career. However, after suffering the double blow of beginning to be troubled by knee injuries and was overlooked after moving to new club Olympiakos, he felt more discouraged about his career, hence he resolutely decided to retire, ending his 13 years career of working hard on the pitch.
Many reporters in the industry were shocked about the news of Vrsaljko's sudden retirement. Even Sky Sports Italia's renowned Italian transfer journalist Gianluca Di Marzio expressed he was surprised, but he still blessed him all the best for his new endeavours in the future.
The 31 year-old Vrsaljko is born in Rijeka, Croatia on January 10, 1992. He is 1.81 meters tall and plays as a right-back. Vrsaljko had played for the Zadar youth academy when he was a young, and moved to the Dinamo Zagreb youth academy in the summer of 2006.
In the summer of 2009, Vrsaljko began to play for Dinamo Zagreb's satellite club Lokomotiva Zagreb, and it was not until December of the same year that he completed his Dinanmo Zagreb first-team debut.
His handsome appearance and outstanding performances immediately made Vrsaljko stand out to become one of the most watched new-generation player in Dinamo Zagreb, and he also lived up to his expection by helping the club won 4 consecutive Croatian First League and won 2 Croatian Cup.
In July 2013, Vrsaljko joined Genoa for €4.6 million.
After helping the Il Griffone successfully relegation, Vrsaljko moved to Sassuolo for 5.5 million euros in July of the following year.
With great performances, he helped the Serie A club transformed from a relegation strugglers to a club playing in the Europa League, thus allowing him to attract the attention of big clubs.
In July 2016, Vrsaljko joined Atlético Madrid for €15 million, during this time, he also returned to Italy to play for Inter Milan on-loan.
After returning to the club from loan, although Vrsaljko failed to become a key player at Atléti, he still won 1 La Liga and 1 Europa League with the club.
Vrsaljko, who failed to renew his contract last summer, left Atlético Madrid to join Olympiacos on a free transfer. However, as mentioned above, after suffering the double blow of beginning to be troubled by knee injuries and was overlooked after moving to Olympiakos, he resolutely chose to terminate his contract with the club.
This season, Vrsaljko has only played 9 times across all competitions for the Greek Super League defending champions, and has not scored any goals or made any assists.
Internationally, Vrsaljko began to become a member of the Croatia national team in February 2011. He played 52 times for the Vatreni in all competitions, making 9 assists, and the highlight of his career was becoming the runner-up in the 2018 FIFA World Cup in Russia, as well as becoming the third place winner in the 2022 FIFA World Cup in Qatar.