Ex-Manchester United and Brazil international right-back Fábio ends European stint and moves back to Brazil by joining Grêmio from Nantes..
2023-01-04 13:47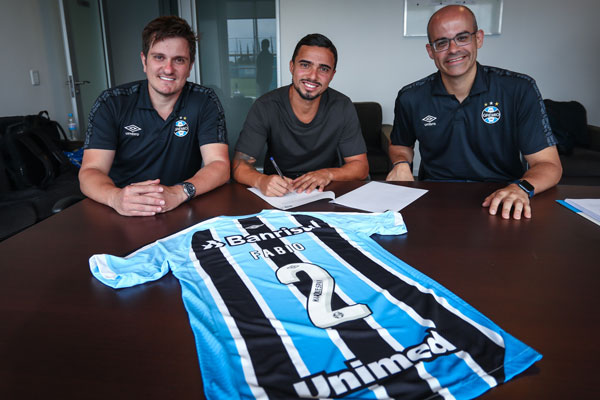 Grêmio announced on its official website on Tuesday night that the club had signed ex-Manchester United and Brazil international right-back Fábio da Silva from Nantes.
According to Grêmio's official statement, Fábio has signed a short-term 2 year deal which runs until the winter of 2024 with the club until the winter of 2024, and he will also wear his iconic No. 2 shirt.
After completing his joining procedures, Fábio posted on his personal official Instagram account that: "I was only 18 years old when I came to Europe. My brother and I began our adventure in a continent we barely knew. We have built a new home here, along with a new life and my family. "
"We've had 14 years of continuous learning here. It's like a college experience in my life that I'll never forget. A big thank you to everyone who's been supporting me in my career, maybe you don't know how important it was for me and my family to have been through."
"I came back to Brazil with a lot of baggage with me. I have became much more responsible and more experienced, but I will always work hard with the same humble attitude of wanting to continue learning and improving."
"Thank you Manchester United, Queens Park Rangers, Cardiff City, Middlesbrough and finally Nantes for what a journey and memories that they have given me like my true friends in life!"
"Finally, I almost forgot to say, Grêmio, here I come!"
The 32-year-old Fábio was born in Rio de Janeiro, Brazil on July 9, 1990. He is 1.72 meters tall and primarily plays as a right-back, but he can also be deployed as a left-back or midfielder. His twin brother Rafael is also former Brazil international right-back who is currently playing for Botafogo..
The two brothers Fábio and Rafael joined the Fluminense youth academy of Campeonato Brasileiro Série A club Fluminense when they were young, but after being spotted by the director of Manchester United's youth academy, Les Kerslake, the brothers joined Red Devils for €3 million in January 2008.
Fábio completed his first-team debut in 2009. With his good performance, he was once praised by the legendary Manchester United head coach Sir Alex Ferguson as a future footballing superstar with a bright future.
During this time, Fábio won 1 Premier League and 1 Community Shield with the club, and also played for Queens Park Rangers on-loan.
At the end of January 2014, Fábio joined Cardiff City as a free agent. After that, he moved to Middlesbrough for £2 million in August 2016.
In July 2018, Fábio joined Nantes for €2 million , and played in the same league as Rafael, who played for Ligue 1 side Lyon at the time again.
Last season, Fábio played 30 times for Nantes in all competitions, assisted 4 goals, and won the Coupe de France with the club in a shocking manner.