Carlo Ancelotti denies that Real Madrid plans to sign Palmeiras' Brazil wonderkid Endrick on advance transfer during the winter transfer window..
2022-11-07 18:53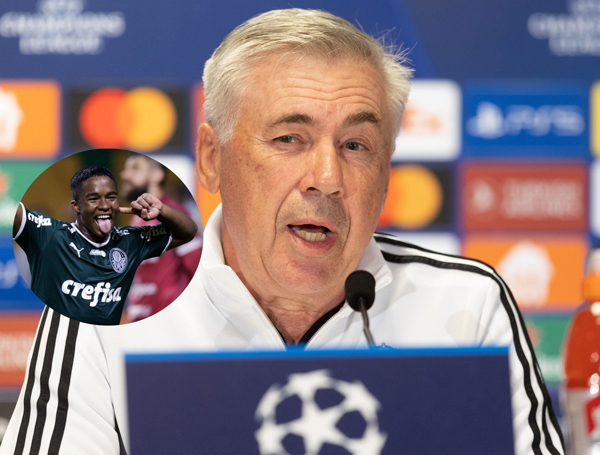 Real Madrid head coach Carlo Ancelotti denied rumours claiming that the club intends to sign Brazilian wonderkid Endrick to an advance transfer during the winter transfer window on the pre-match press conference of their mini-Madrid derby against Rayo Vallecano on Sunday.
When Ancelotti was asked by reporters at the press conference about the club's winter transfer window plans again, he reiterated that Real Madrid would not make changes in the upcoming transfer market. He said: "The transfer door will be closed, which means that no one will leave or join. Having said that, if someone asks to leave, we will still have to look at the offers."
Afterwards, Ancelotti automatically mentioned the youngster's compatriot Rodyigo, as if he knew that reporters would definitely ask him what he thought of Endrick. He said: "I think Rodyigo has a lot of potential, both as a centre-forward and as a support striker. Putting him as into the winger position is not that good for him because his strength is running and dribbling in tight spaces. I think he's more of a center forward than a winger."
Not long after, renowned Italian transfer journalist of Sky Sports, also quickly brought subsquent news that Endrick had personally expressed that he is not concern about being linked with the Los Blancos in an interview with Brazil's Globo Esportes.
Endrick said: "I don't care about this, I'm in Palmeiras, my mind is here, I don't care what clubs are watching me out there. I'm writing for the chapter of glory of my career, and I'm dedicating my whole life to Palmeiras.
"Obviously if I go to play in Europe one day, my mind will also follow there, but for now I have to do my job at Palmeiras well first. I don't like to pay attention to who's interested in me, I just want to play football and make my family happy."
Coincidentally, Romano also revealed that when he asked Endrick's father about these rumours, the latter also denied that his son was about to transfer and play for the La Liga, Champions League, UEFA Super Cup and Spanish Super Cup, quadruple winners at the Santiago Bernabeu.
The latter responded: "Endrick has no agreement with Real Madrid or any other club. And we don't have a preference for any club. We will make a decision in the next few months, we'll tell Palmeiras what requirements we want and sign with the club that best fits and can best demonstrate the best technical development of Endrick."
At the age of 16, Endrick has already attracted the attention of many giants, scouts, reporters and fans around the world because of his performance in the Palmeiras youth academy before making his official first-team debut.
Endrick, who only made his first-team debut in October this year, is the youngest player to make his first-team debut in Palmeiras' history.
To date, the young Endrick has played 12 times in all competitions for the Campeonato Brasileiro Série A club, scoring 9 goals and making 1 assist.