Brazil legend Pelé's cancer worsened, hospital confirms..
2022-12-22 18:44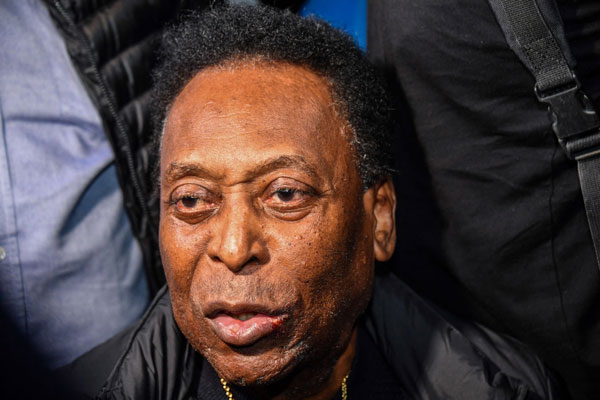 The Athletic reported on Thursday that the Albert Einstein Hospital in Brazil confirmed that the country's legendary footballer Pelé will stay in the hospital this Christmas after his cancer has worsened.
According to the medical report released by Albert Einstein Hospital, since he was admitted to the hospital on November 29 due to re-evaluation of effects of his chemotherapy, Pelé's cancerous tumors showed signs of worsening, and his kidney and heart function also deteriorated, causing some organ failures and requires special care. Due to the severity of his condition, Pelé will remain in the general ward to receive the necessary care of the medical team.
Earlier, Pelé's daughter, Kelly Nascimento, revealed that her father will continue to receive treatment over the Christmas period.
Kelly wrote on social media: "Our family's Christmas gathering will be delayed, and we will follow the doctor's advice to remain in the hospital and receive medical care."
At the same time, Kelly also expressed her gratitude to all the people around the world who paid attention to his father's condition and prayed for him at all times. "Your love and prayers for him have been a huge comfort to us and let me know we are not alone," she said.
Pelé's physical condition has always been the focus of attention from people around the world. Since 2012, he has been admitted to the hospital several times for health problems, including urinary tract infections, kidney stones, ureteral stones and bladder stones. He has also undergone hip replacement surgery and lumbar spine surgery.
Pelé underwent surgery for a colon cancer tumour last September and underwent chemotherapy before being re-hospitalized for two weeks earlier this year with a urinary tract infection.
Since he was admitted to the hospital in November this time, foreign media reported that Pelé, who was suffering from cancer, had no response to chemotherapy and would receive palliative care and enter the stage of end of life care, but this news was later denied by Pelé's family.
On December 3, Pelé also posted a message on social media saying: "My friends, I am strong and full of hope. I will receive treatment as always, and thank all the medical staff for taking care of me."
Although Pelé has reduced his public appearances in recent years, he remains very active on social media and has been following Brazil's performance during the World Cup in Qatar.
On the 18th of this month just passed, Pelé watched the live broadcast of the 2022 FIFA World Cup in Qatar final in the ward, and congratulated the legendary Argentina star Leo Messi on his social media account for winning the World Cup.
The 82-year-old Pelé played for Santos during his playing career and scored thousands of goals. At that time, his opponents even included world-class legends such as Eusébio, Alfredo Di Stéfano, Ferenc Puskás and many more.
Although many of Pelé's goals at that time included goals which he had scored during friendly matches, this amazing number still did not prevent him from becoming the record holder for the highest goalscoring star in the history of Guinness World Records, and also made him became one of the most famous celebrities in the history of the Campeonato Brasileiro Série A powerhouse.
Internationally, Pelé, who scored 77 goals in 92 games for the Seleção, is tied with the current star Neymar as the joint-top goalscoer in history of the Brazilian national team, and has also led the team to win 3 World Cup titles.