Boston Celtics new recruit Danilo Gallinari torn meniscus in left knee during Italy's 2023 FIBA World Cup qualifying match againg Georgia..
2022-08-29 17:24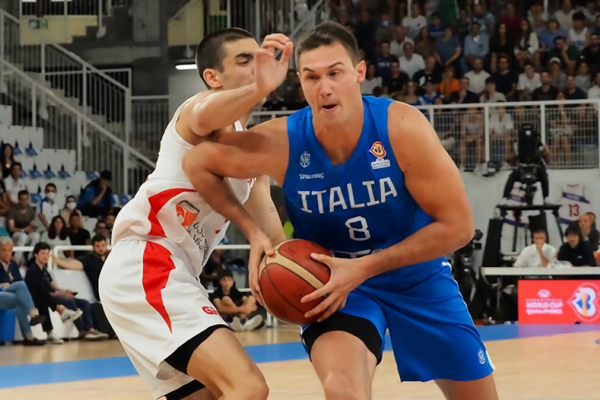 The Athletic reported last night that Danilo Gallinari, a new Italian forward who had just joined the Boston Celtics this summer, suffered a torn meniscus in his left knee while playing for the Italy in Brescia during the 2023 FIBA World Cup qualifying match against the Georgia.
According to the report, the Italian men's basketball team did not give details on how long Gallinari will be out, only stating that the experienced floor general has not suffer any other ligament ruptures or torn ACL. As the injury was serious, Gallinari will miss next month's EuroBasket.
Shortly after, Shams Charania, a well-known American reporter of the same outlet, also confirmed the news and added that Gallinari was injured suddenly without confrontation and had to be helped off the field by his teammates. Charania said that the injury occurred during a fast-break counterattack at the fouth quarter. At that time, Gallinari suddenly lost his balance after receiving a pass from a teammate in the middle lane, and left the field with his hand clutching over his left knee. After receiving a simple treatment, he was helped off by his teammates. Italy fdefeated Georgia 91-84 in this 2023 FIBA World Cup qualifiers match.
Last season, Gallinari played mostly off the bench for the Hawks, averaging 11.7 points per game. In his 16-year NBA career, he averaged 15.6 points and 4.7 rebounds per game.
The 34-year-old Gallinari has been playing in Italy from 2004 to early 2008. It was not after he announced that he would participate in the NBA draft of that year in April 2008 and was selected by the New York Knicks with the sixth overall pick, that he had started his long NBA career. Over the years, Gallinari also played for the Denver Nuggets, Los Angeles Clippers, Oklahoma City Thunder and Atlanta Hawks.
During the summer offseason in June this year, Gallinari was traded to the San Antonio Spurs by the Hawks for Dejounte Murray and Jock Langdale along with multiple first-round draft picks. However, he was waived by the Spurs soon after.
On July 12, Gallinari signed a two-year contract worth $13.3 million to join the Boston Celtics. At the press conference of the joining ceremony, he also said that his idol since he was a child was the team's legend Larry Bird, and he vowed to help the Celtics win the ring again. Unfortunately, as the new NBA regular season is starting in mid-October, but the news of Gallinari seriously injured before the start of the game, and that his return date has yet to be confirmed yet is surely very sad for pundits and fans alike.