Arne Slot ends Tottenham Hotspur links by officially completing contract extension with Feyenoord..
2023-05-27 10:29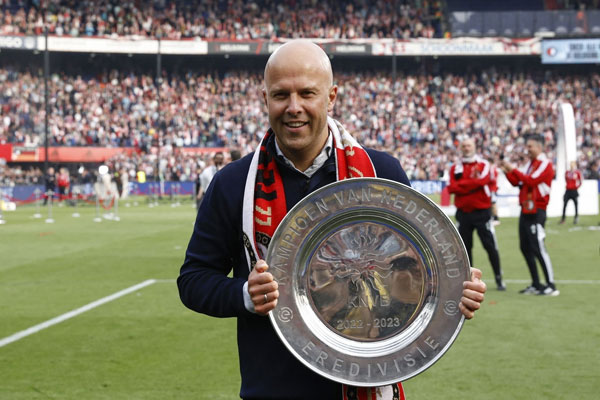 Feyenoord announced on the official website on Friday that meritorious head coach Arne Slot has officially renewed his contract with the club.
According to Feyenoord's official statement, Slot has signed on a new long-term four-year deal with the club which runs until the summer of 2026.
At the same time, Sky Sports' renowned Italian transfer journalist Fabrizio Romano also added that, Feyenoord had removed the €5 million release clause in Slot's contract which can be triggered in the summer of 2024.
After completing his contract renewal procedures, Slot, who was interviewed by Feyenoord's official website again said: "My work here is not done yet. We have had a good season at Feyenoord. A championship title is a nice payoff for all the hard work, but I really want to continue building on that great foundation we have here."
"After the end of the summer, a new adventure awaits us in the Champions League, and we also have a national top-flight title to defend. I'm already looking forward to it, so I'm proud to continue to be a head coach in Rotterdam with Feyenoord."
This contract extension has now also officially shattered Tottenham Hotspur's plans to hire him as their head coach.
After being rejected by Julian Nagelsmann and Slot one after another, the future of the Premier League giants' new head coach appointment plan will inevitably make fans feel more worried.
The 44-year-old Slot was born on September 17, 1978 in Bergentheim, the Netherlands. He is 1.84 meters tall. He was a legendary attacking midfielder of Dutch Second Division club Zwolle during his playing career.
After retiring in the summer of 2013, Slot worked as an assistant coach in Zwolle and Cambuur as an assistant coach, before being appointed as an assistant coach by AZ Alkmaar in the summer of 2017.
In the summer of 2019, Slot was promoted to be the head coach position of AZ Alkmaar, but he was sacked after he became absent-minded following being exposed that other clubs tried to poach him in December of the following year.
A few weeks following that, Slot replaced veteran renowned Dutch head coach Dick Advocaat as Feyenoord's head coach. Last season, he also led the club to the UEFA Europa League final.
This season, Slot did one again by successfully leading the club to break the tradition of rivals Ajax monopolizing the Eredivisie after a lapse of 6 years and won the league again.