Al-Nassr reportedly began approaching Marcelo to reunite him with Cristiano Ronaldo..
2023-02-22 14:27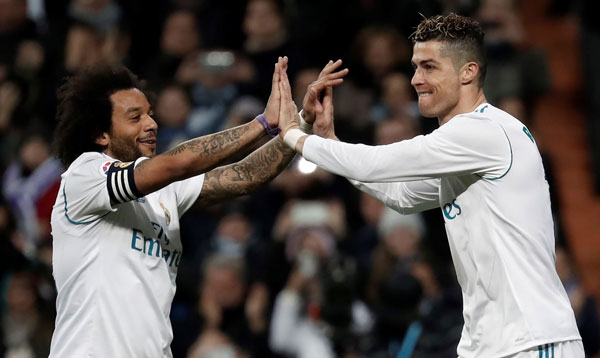 CNN's renowned Portuguese transfer journalist, Bruno Andrade brought exclusive news on Tuesday that Al-Nassr has begun to approaching Brazil international left wing-back Marcelo, who recently terminated his contract with Olympiakos.
According to Andrade, Marcelo's long-time teammate and friend in his former club Real Madrid, Cristiano Ronaldo has immediately appealed to the Al-Nassr hierarchy to sign him after learning that the Brazilian star had terminated his contract.
Andrade also revealed that Al-Nassr is expected to also offer Marcelo a mouth-watering lucrative contract similar to that of Ronaldo.
Although the news reported by Andrade seems to be very true, however, according to the follow-up report made by Sky Sport's renowned Italian transfer journalist, Fabrizio Romano, Marcelo and his agents are still not planning to accept Al-Nassr's contract offer at this stage.
Romano added that Marcelo prefers to stay in Europe or return to Brazil to continue his career, hence the famous former No. 12 jersey bearer of Real Madrid, his family and his agents will put aside the offer first, and Marcelo himself has always maintained that there is still plenty of time for him to plan for his future destination, hence he will not consider accepting to join the Saudi Pro League giants until he really fails to find a new club he likes.
The 34-year-old Marcelo was born in Rio de Janeiro, Brazil on May 12, 1988. He is 1.74 meters tall and plays as a left wing-back. He has dual citizenships of Brazil and Spain.
Marcelo joined the Fluminense youth academy as a child and began representing their first-team in 2005.
In January 2007, Marcelo joined Real Madrid.
During his 15 years at Real Madrid, Marcelo played 545 times for Los Blancos across all competitions, scoring 38 goals, assisted 103 times, and won 25 championships with the team, including 6 La Liga, 2 Copa del Rey, 5 Supercoppa de España, 5 Champions Leagues, 3 UEFA Super Cups and 4 FIFA Club World Cup.
At his peak, Marcelo was one of the best attacking left-backs in football history. But after France star Ferland Mendy joined Real Madrid, Marcelo declined with age and gradually became a substitute player.
Last season, Marcelo only got 18 chances to play, which is his worst record in his entire Real Madrid career, except the 6 times that he only played when he joined the club in the middle of the 2006/07 season.
Marcelo, who left the club after helping Real Madrid win the 14th Champions League trophy in club history last summer, transferred to Olympiakos as a free agent on September 3 of the same year.
However, after 5 months, Marcelo, who rarely got the chance to play, was unhappy with his situation in the club and chose to terminate his contract with the club a few days ago.
During the first half of this season, Marcelo only played 10 times for the Greek Super League defending champion in all competitions and scored 3 goals.
It is worth mentioning that Marcelo and Ronaldo played for Real Madrid together from 2009 to 2018, creating countless glorious histories for the La Liga giants.