Al Nassr denies rumours claiming his contract includes promise to support Saudi Arabia's 2030 FIFA World Cup hosting bid..
2023-01-11 15:24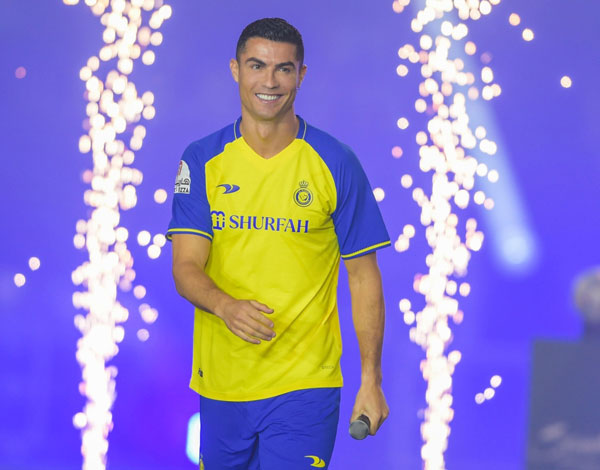 Al Nassr has issued a statement through the club's official Twitter on Tuesday to refute the claim that Cristiano Ronaldo's contract includes a promise to help the Saudi Arabian government to bid for the right to host the 2030 FIFA World Cup and serve as a promotional ambassador for the World Cup.
Al Nassr wrote in a tweet: "Al Nassr FC would like to refute that, contrary to news reports, the contract between Cristiano Ronaldo and Al Nassr does not include an agreement to help secure rights to host any World Cup. "
"He's only primarily focused on helping Al Nassr win and working with his teammates to help the club succeed."
Earlier at the end of December 2022, the Spanish media MARCA, which is known as the mouthpiece of Real Madrid, suddenly pointed out that when Al Nassr proposed to Ronaldo to join them, in addition to offering him a sky-high wages, they also proposed that he and his arch-rival Leo Messi jointly support for the Saudi Arabia's bid to host the 2030 FIFA World Cup and act as a promotional ambassador, and the two have also agreed to this.
Ronaldo, who will be 38 years old early next month, has been marred by one controversy after the other recently. At the beginning of last year, he broke a mobile phone of a young Everton fan because he was unwilling to lose. Then, he refused to play as a substitute and left the stadium during a game against Tottenham Hotspur. Following that, he criticized Manchester United in a private interview with famous presenter Piers Morgan which led to him being fired, Ronaldo's every move in the 2022/23 season ultimately couldn't escpae from being magnified, followed and reviewed.
Just earlier this year, the Newcastle Chronicle, the sister paper of the Mirror, which has become notorious for its love of reporting fake news, reported that if Newcastle United qualified for next season's Champions League, then the Magpies will be able to sign Ronaldo under a special clause written in his contract with Al Nassr, but the latter has denied this.
Due to the foreign player registration restriction limit policy, Ronaldo has not yet been able to officially complete his debut in the Saudi Pro League giants.
This season, before joining Al Nassr, Ronaldo, who has been playing for Manchester United, who he has criticized, has played 16 times for the Premier League giants in all competitions, scoring 3 goals and assisting 2 times.